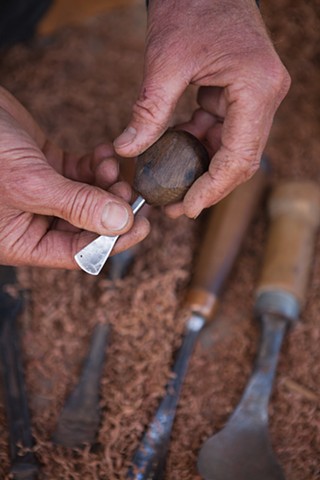 Rufus Blunk, California Artist
Rufus Blunk's creations include hand carved wooden furniture and vessels; landscape features; garden/orchard installation and restoration; architectural elements including custom benches, counters, and display cases using new and reclaimed materials.
Rufus learned the basic tools of his trades - chainsaw, chisel, rasp, sander - in the work space of his father, artist JB Blunk. From a very young age Rufus explored the texture, the smell, the quality of woods, how to navigate grain and form, and the utilities and varieties of local clay and stone.
Other major figures influential to Rufus Blunk's art include his lifetime neighbor, Surrealist painter Gordon Onslow Ford, numerous artists and friends including Isamu Noguchi, sculptor Peter Boiger and painters Jack Wright and John Anderson, among others.
Rufus has been deeply influenced by the place he grew up in Northern California and by his boyhood travels in Kenya, Ethiopia, and Samoa. Travel by sailboat and volunteer work projects in Central and South America also inspire him.
In a fast-paced and commercial modern world, Rufus Blunk's creations reflect a traditional sensibility. His art reveals the integrity of his life —blending the practical with the beautiful.